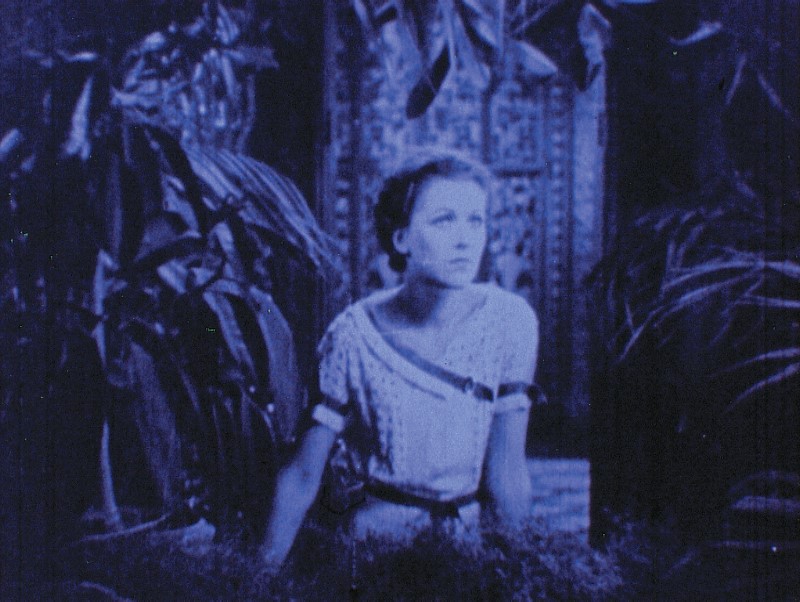 Rose Hobart
Directed by Joseph Cornell, 1936, 19 minutes
Part 1
Part 2
Not matter how snobby of a film enthusiast/elitist one becomes, there's always a desire, even if miniscule, to indulge in bad cinema, every once and awhile. Often it's a B-movie, one that never escapes its genre and fails to live up to one's low expectations. Yet some great moments pop up, infesting your subconscious for weeks until one drunken late night, when you and your buddies are on the verge of slumber, somehow you decide to watch the B-movie again, this time fast-forwarding through all the crap to the moments you remember and love. You might even be too lazy to turn off the 4 Non-Blondes mix you've got pumpin' from the Bose, but it doesn't matter, because
"What's Up?"
makes the said B-movie even better.
Now at no point in this situation would one think that they were an artist, but stoned enough, one might believe that they were the first to do something like this. Paging Joseph Cornell. The famous surrealist mixed media artist of the 20th century, known more so for his hand-made boxes, Cornell created one of the first examples of found footage cinema with 1936's
Rose Hobart
. But its influence can be extended all the way into the 21st century and the Youtube revolution.
Cornell lived at home with his mother and then alone for most of his life, a recluse who never seemed to engage in relationships with women. But this didn't prevent him from having schoolboy crushes, and one such romantic yearning arose after he watched
East of Borneo
, a 1931 jungle B-movie starring the beautiful Rose Hobart. Taking his adoration for her (though its unclear if he was as transfixed by his acting ability) to somewhat creepy levels, Cornell bought to the film and reassembled the footage. He began by scrapping all of the sound and replacing it with two songs from a random record he found at a record shop, "Forte Allegre" and "Belem Bayonne" off Nestor Amaral's
Holiday in Brazil
. The incongruity of the soundtrack with the visuals seems to dispel a notion of a requisite marriage between the two, but this isn't as simple as mashing up Van Halen's
1984
with the sultry images of
The First Wives Club
. Instead, the sweet poppy sounds of the music takes away the drama of the film, while increasing the sense of mystery and faraway fantasy that comes with the jungle setting.
Now I wouldn't want to call Rose Hobart Cornell's own
Boner Jamz '03
mixtape, but it doesn't seem to be that far off in regards to personal interest. The images presented throughout are close-ups of Rose Hobart, more close-ups of Rose Hobart, and then a few jungle scenery interludes. So many times a film has been called a "love note" to something, but this is the definition of a "Do you like me? Check yes or no" note. Cornell in love with the actress, and very plainly wanted to watch her and only her when he projected the film. The only thing that logically progresses the film is her movement, which is reminiscent of floating at times, and her eyes, looking at new and different scenes. The other supporting characters, either men who want her or animals who want to befriend her, are jumbled together and given trace amount of attention in Cornell's re-edit.
When Rose Hobart premiered, Salvador Dali became infuriated at what he saw. Jumping out of his chair and interrupting the screening, he alleged that Cornell's film was an idea from his own dreams, and claimed that Cornell stole it from him, even though he didn't write or tell anyone about his own planned film. As absurd as this gesture and accusation was, Cornell decided not to show the short for decades, not again until Jonas Mekas, whom many call the godfather of the American avant-garde, cajoled him to screen the film again in front of a public audience. Since then, its been added to the National Film Registry, preserved for its "cultural significance," and been shown at the finest art museums, including the Whitney.
When screened, the film is to be projected through a blue filter. Originally, the blue filter was used to induce an allusion of night-time throughout, and thus, assist the somnolent feeling of the piece. When Cornell publically showed the film again in the late 60s, he changed the tint to a rose-colored hue. Constantly, Cornell is trying to remind us that we are watching a film, and because of this, it is always seen through our own filter— he just chooses to make his either blue or rose.
What stills amazes me about the film, beyond the eerie juxtaposition of Brazilian pop and jungle imagery, as well as the dreamy feel, is the fact that the methods of Cornell are so prevalent today. There are countless remixed trailers, where Jaws becomes a romantic comedy, and there are also films chopped up into their best, most quotable parts, where even
Batman & Robin
seems
experimental
. With every movie, we remember what we want, and take away what we want, so why not cut a film like that?